Delicious & Fresh Homemade Pancakes & Cocktails

Please join us for breakfast, lunch or dinner, you will not be disappointed.
Cozy & Relaxed
Leave life's demands at the door and unwind in our bright, modern, Bali inspired restaurant as you indulge in one of our famously delicious pancakes – and feel the stress of the day melt away as you enjoy one of our signature cocktails.
Do you like to support local? We do too! Everything in our restaurant is locally sourced and of the highest quality.
Whilst the produce is locally sourced, the recipes are most certainly not! We've taken culinary inspiration from our travels and adventures and have bought them home to you. From Estonia to South America, east to west, our pancake menu holds a collection of the best flavours we could find around the world.
We love to throw a good party! And our restaurant could be the perfect space for yours. From cocktail to kids, office to anniversary, we can cater for any type of private event – so contact us now and let us help you make it one to remember!
Become a master cocktail crafter, sipping and shaking your way through a fun-filled two hour event where you'll learn the secret to making not just one, but two, fabulous cocktails!

Whether you come along with friends, colleagues or for a date night, kick start this journey with a chilled glass of prosecco and finish up with a shot to celebrate your success!
We love you to drop-in but we can be very busy so it's often better to reserve a table.
You can book on-line; over the phone on 01908 418061; or contact us through Facebook or Instagram.
To book on-line find the 'Reserve a Table' button and follow the instructions. If there are no tables available ring us anyway as we try to keep some space for impromptu visitors.
We'd love to hear from you.
We're Open:
Monday – 10.00 – 16.00
Tuesday – 10.00 – 16.00
Wednesday – 10.00 – 16.00
Thursday – 10.00 – 16.00
Friday – 10:00 – 22:30
Saturday – 10:00 – 22:30
Sunday – 10:00 – 16:00
The Whisk, 51 High St, Woburn Sands, Milton Keynes, MK17 8QY
Specialities of the House
Savoury Pancakes
Transport yourself to Italy, Greece, Bali or Brazil, with our mouth watering range of savoury pancakes and side dishes. Delicate flavours play with the bold, teasing your tastebuds with the most flavoursome cheeses, the richest spices and the finest meats the local area has to offer.
Sweet Pancakes
Whether you go for fresh fruity bursts of ripe cherries with the smooth velvet of Greek yoghurt, spicy notes of cinnamon and rich chocolate ice cream, honey, vanilla, coconut cream or something new entirely – there's a sweet delight to suit every palette on this menu.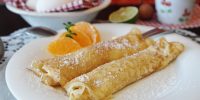 Homemade Desserts
Indulge in one of our lovingly prepared homemade desserts! Ever changing and seasonal, due to using only the best local products, we pride ourselves on these special sweet delights. Treat yourself. You deserve it
Fresh & Bespoke Cocktails & Non-Alcoholic Cocktails
Our mixologists behind the bar are master craftsmen, passionate about creating perfect cocktails and beverages. Try one of our signature cocktails today, or if you can't find what you're looking for on our menu, talk to one of our mixologists and let them create something special just for you. Whether you're looking for something fresh and sharp, subtle and sweet or something just to suit your mood, they are always up for the challenge.